Aerovel Spools-Up Flexrotor Production as Service Experience Fuels Demand
September 26, 2018
Diminutive, and squat on its four lunar-lander legs, a Flexrotor spins-up its outsize rotor and levitates into the hot, high desert twilight. As it disappears into the darkness, its legs join into a trim rear fuselage, its broad wings take over, and the rotor slows to a flickering idle for a long, efficient cruise until dawn. It comes back to base as daylight breaks over the horizon, hovers down to a gentle landing, and is stowed snugly in its coffin-size box – until, at the next sunset, the time comes to rise again.
This performance, otherworldly for the uninitiated, has become a matter of routine for staff from Precision Integrated (Newburg, Oregon) completing their 4th straight month of near-nightly operations. Many more months are to come. Precision's Matt Parker marked the milestone by observing that "we saw early on that Flexrotor's combination of small footprint and long endurance put it in a class by itself. We've used it for shipboard reconnaissance, in the high Arctic and on the high seas, which just wouldn't be practical with any other aircraft. Now we're setting a new standard in the high desert. We show up with a few boxes and a couple of guys, ready to operate for months on end. It's hot and it's high, with density altitude usually over 6000 ft through the summer, and we fly night after night, all night, getting imagery to our customer which can't be obtained any other way."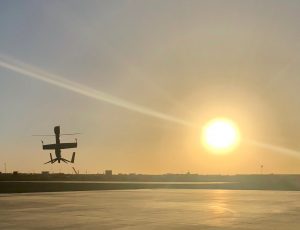 An early-production Aerovel Flexrotor returns to its high-desert base after an all-night imaging mission. Near-nightly operations have been sustained since June. Aerovel is spooling up to meet demand as ongoing operations demonstrate the aircraft's serviceability and effectiveness.
Aerovel's Tad McGeer added that Precision's desert operation is new for Flexrotor, "not only because it is hotter than we've seen before – even aboard ship in the tropical Pacific – and of course high to boot, but above all because it has built up tenfold more flying time than any Flexrotor deployment to date, over months rather than weeks. We thought that Aerovel would have to provide a lot of support, but it turns out that Precision's crew has been doing fine without much help from us. They deserve a lot of credit for that. They only started training on Flexrotor at the beginning of the year, and on their first time out they have achieved effectiveness and serviceability at the level of a much more mature aircraft."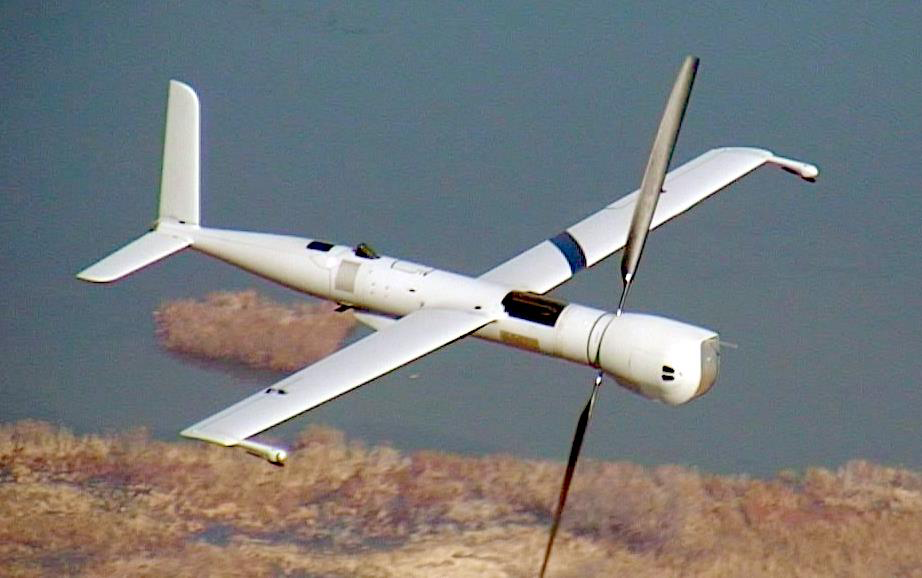 With its big rotor turning lazily in cruise, a Flexrotor flies formation to have its portrait captured by the imaging turret of a sister ship.
Aerovel is maturing too. "In the past we've focused on engineering and demonstrating capability, such as last year when we flew a Flexrotor nonstop for 32 hours in order to show unprecedented endurance for a VTOL aircraft. Now serviceability has been demonstrated as well, and in a tough neighborhood. People are seeing that they can have an aircraft of exceptional capability that really works, day in and day out. The resulting demand is starting to hit us. We have no shortage of plans for making the aircraft better, but now we have to manage a spool-up of production in parallel with continuous improvement."
"So far we've been growing organically, and on that path we'd expect roughly to double in size over the next year" says McGeer. "But unless we can keep telling customers to wait longer than they'd like, doubling may not be enough. So we're considering options to raise capital."
A further concern is balancing commercial and military business. "Military contracting would handicap Aerovel's commercial goals, but we want to accommodate military interest. So we sell "green" aircraft for adaptation by companies like Precision which have military operations. We are working with AeroVironment in Simi Valley to support its bid for the US Army's Future Tactical Unmanned Aircraft System. AeroVironment leads its market sector with Raven, Wasp, and Puma, and sees Flexrotor as a complementary and compelling option for the Army's near- and long-term FTUAS requirements." McGeer sees more partnering arrangements along these lines as essential to Aerovel's success.
McGeer's office in Bingen, Washington looks out to the Columbia River, and a cluster of buildings on the waterfront. Most of them are occupied by Insitu, a company which now dominates the market for "Group 2" unmanned aircraft – a market in which Flexrotor looms as a formidable competitor. McGeer, who founded both Insitu and Aerovel, points out an unassuming shed structure amid the glass and concrete, and recalls that "it was the only building there when Insitu moved out of my basement in 1997. Now only a few lots are left. Aerovel is going to need more space soon." It looks as if a new entrant is going to move in.